Share this URL: http://video-content-marketing-2day.peatix.com
Event is FINISHED
2 days: Video Content Marketing: iMovie - SkillsFuture Approved
Day 1 Time: 10.00am to 6.00pm (7 Hours)
Day 2 Time: 1.00pm to 6.00pm (5 Hours)

Small Class Training, Max. 6 participants.
This workshop is SkillsFuture Approved & Claimable.

What will you learn, and what can you expect during the video content marketing workshop?
https://youtu.be/1PBGfX-E0UI

(a) Learn to create a 45 to 60 second video by the end of the workshop, like the videos we have done below:

and...
(b) Learn to edit like all our videos above (especially the first video), add clips, graphics, masking (blue/green screen), music, and more!


This is a Certificate Workshop: Receive a Certificate of Completion upon successfully completing the workshop.

SkillsFuture Course Code: CRS-N-0043336

The most powerful and engaging content on Facebook and Instagram are Videos. If you have ideas to be translated to a Video Content as your Marketing Strategy, but do not know how to start, this is the workshop for you!
Our trainer will share with you the tools that will enable you to put together a Video Content Marketing Strategy, and a short 45 to 60 second video for social media, so come join us!

The difference between the 1-day and 2-day Video Content Marketing workshop is that you get to explore more iMovie tools, and develop 2 video contents by the end of the 2-day workshop!
Who is this workshop for?
If you would like to learn how you can storyboard and plan a simple stop motion video clip for your business, come prepared for a workshop full of brainstorming and hands-on activity.


Learning Outcomes:
(a) Learn to create video contents for instagram / Facebook
(b) Brainstorm and Research content to translate into your video marketing strategy


Course Outline:
1. Introduction to the Workshop (30 Min)

2. Case Study Videos on Instagram / Facebook / YouTube (30 Min)
- Case Study of simple yet effective Videos
- How can you apply it for your work / business / project brief?

3. Brainstorm, Plan & Storyboard for 3 video campaigns (60 Min)
- Brainstorm
- Discuss & Share
- Consultation
- Storyboard for 1 video campaign

4. Creating Video Contents (120 Min)
- Story board on paper, sketch
- Create your graphics with a Free to use design software
- Import graphics into iMovie and animate them like our videos above


5. iMovie (Hands-on Activity) - (120 Min)
Learn about iMovie, Step by Step on importing images, videos, editing and compiling the video.
6. Feedback on Video & Final Q&A (60 Min)




Day 2: Given homework in the morning to shoot video clips, class only starts at 1pm on Day 2.

- Learn to record screen and audio with QuickTime
- Learn to shoot different videos and putting them together into iMovie
- Shoot (Video / Photos) during the workshop so we can put a simple 45 to 60 seconds video together with iMovie
- Create your graphics for green screen (edit them to appear/move in iMovie), Create Slide Deck (Record Screen + Voice with QuickTime), Consultation with Trainer
- End product: 60 to 90 second video clip about your business, brand or product




Hardware & Software Requirements:

(a) Macbook Air / Pro

(b) iMovie for editing your videos


(c) QuickTime App installed

(d) SmartPhone with High Res Photo and Video Capabilities



Singaporeans above 25 years old, workshop is SkillsFuture Approved & Claimable

No cash required. If you would like to use SkillsFuture Credits for this workshop, please email us directly at skillsfuture@thegooddesigners.com so we can send you payment instructions on how you can pay us directly with your SkillsFuture Credits.






About the Trainer
Charmaine is the Founder and Lead Trainer of Sky Digital Agency and The Good Designers.
She is generous in dishing out tips and tricks, and always excited to bounce marketing ideas with participants, helping them to learn within their industry's needs and customer's journey. Charmaine makes learning interactive, candid and fun, helping learners to be excited about applying what they have learned in their work or business even after the workshop.

Always looking for opportunities to pay it forward in the community will her knowledge and skill sets. Charmaine also trains youth at risks (in collaboration with MSF) under The Good Designers, and finds opportunity to volunteer her time, exposing the youths to creative and design subjects.

The Good Designers currently has 5 Workshops SkillsFuture Approved and Claimable. From Video Content Marketing, Design Ads that work on Social Media, Adobe Photoshop CS6, Coding with Sublime Text to Infographics Marketing!

More details about The Good Designers:
Facebook | Instagram | YouTube | Website

Here are some generous workshop reviews our participants have left us on Facebook on how our workshops have helped them be a better marketer for their work, business, and startups: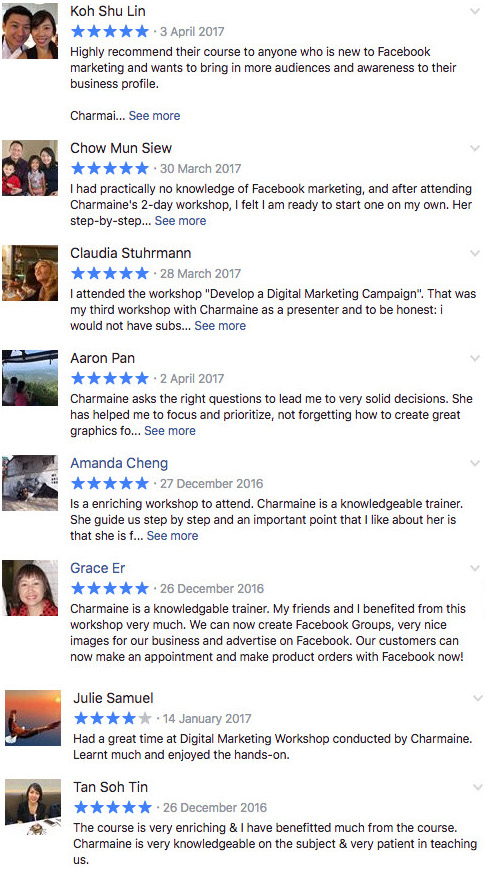 More testimonials of our workshop from our participants are available on Facebook Reviews


FAQs
1. Who can i contact should i have questions?
You may e-mail us at eventbrite@thegooddesigners.com

2. Is there a minimum class size to proceed?
Yes. We require a minimum class size of 3 people to proceed with the class.
In the event that there is insufficient participants, The Good Designers reserves the right to reschedule the class. Under such circumstances, we will inform you no later than 3 days before the event.
3. What are my transport options getting to the event?
6 Raffles Quay, #15-00, Singapore 048580

Nearest MRT: Raffles MRT, take exit "i" to Ascott at Raffles Place, 6 Raffles Quay is right after Ascott at Raffles Place.

P.S. Our venue is rain proof! 6 Raffles Quay is sheltered all the way from Raffles MRT.


4. I'm driving, where can I park?
There is parking space at the building 6 Raffles Quay itself at $2.50 per 30 min block.
For weekend classes, we recommend our participants to park at SGX Centre, at $3 per entry.

Charmaine conducting a 3 hour workshop with 40 training educators at Life Long Learning Centre under Institute of Adult Learning (IAL), on Ways to Effectively Retain Learning Through Better Visual Presentations.
Corporate Training with 15 Staff of Singapore University of Technology and Design.
Full Day Workshop Training: Infographics & Visual Content Marketing

Don't you just love the pantry. Makes learning more fun when you have different hot drinks to keep you awake! We mean... to help you focus!
read more
Updates
The event description was updated. Diff#278660

2017-09-15 09:27:47
More updates
Oct 19
-
Oct 20, 2017
[ Thu ] - [ Fri ]
10:00 AM
-
6:00 PM
SGT
Add to Calendar
Venue

6 Raffles Quay, #15-00, Singapore 048580
Tickets

Regular Ticket (2 Days)

SOLD OUT

$668.00

$615 via SkillsFuture Credits

FULL
Venue Address
Want to find more groups and events like this?